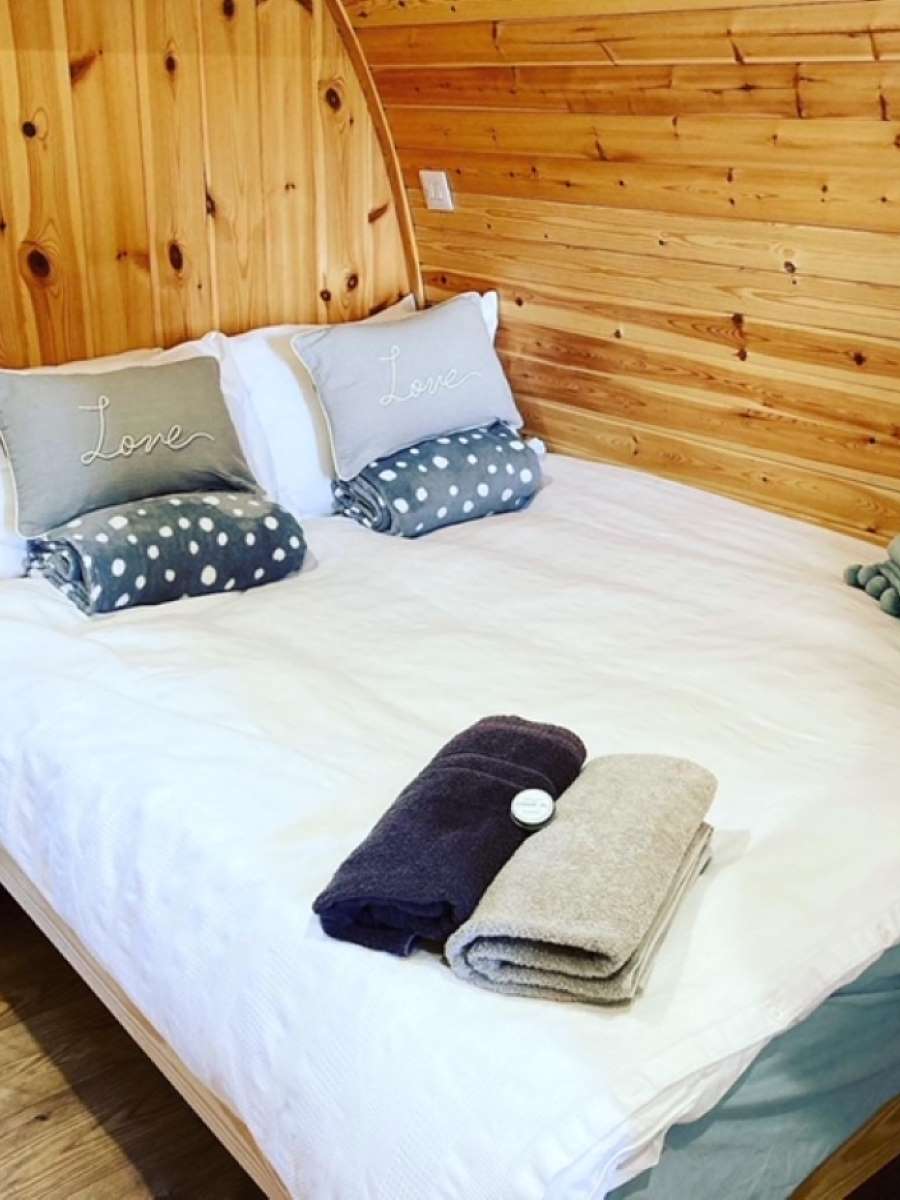 INSIDE A CAMPING POD; LUXURY TIMBER PODS WITH COMFY BEDS NEAR OTTERBURN
COME AND STAY IN OUR LUXURY PODS, FUN AND RELAXING FOR ABSOLUTELY EVERYBODY
The cluster of timber pods at Glampods are genuinely luxurious and spacious enough for a small family. Whether you fancy a long weekend getaway, or a full week's holiday; away from life's hustle and bustle, we know that you'll enjoy your glamping experience in our beautifully appointed pods. Each of these glamping pods has thick insulation to keep you warm in the winter chill and cool in the summer heat with underfloor heating and temperature control.
Please note that all pods are non-smoking and we have a no dogs or pets policy.
Because we all travel with electronic gizmos these days, there are plenty of electrical sockets to keep your all-important batteries charged up, or just relax and watch TV.  A glass of wine from the fridge, a bowl of nibbles and a star-filled sky to view from your pod while supper cooks on your brazier and you sit and eat at your own private seating area - does life get any better than this?!
OUR FAMILY CAMPING PODS
Comfortable sofa that converts into a double bed, a double bed at the back of the pod with a single bed above it, all made up for your comfort. Outside at the front of your pod, there's a covered porch area and a picnic table with space to cook on your brazier and toast marshmallows.
Each ensuite pod has a colour TV complete with Freeview so you can entertain the kids in the morning or when the inclement Northumbrian weather isn't cooperating!
CURLEW AND OWL
Curlew and Owl sleep up to 5 people in comfort and with their ensuite shower rooms they are the perfect glamping hideaway for a family with up to 3 children or a group of adults exploring the outdoors or looking for accommodation close to our wedding venue partners around Otterburn. As you look out over the fields on warm days from February through to July, listen out for the haunting call of Curlew making their distinctive 'Cur-lee' sound as they cruise their breeding grounds and as dusk falls the hoot of the many owls.
Inside the Curlew and Owl Glamping Pod, you will find:
A double bed already made up with a duvet, pillows, sheet and blanket
Kingsize Sofa bed with fitted sheet (please bring your own duvet/sleeping bag and pillows
Bunkbed with fitted sheet (please bring your own duvet/sleeping bag and pillows
Welcome pack of three cereals, coffee, tea, sugar and milk
Complimentary "Real" coffee tray
Wall mounted television
Built in USB charger
Fridge, microwave, toaster, kettle, slow cooker & cooking utensils
Hairdryer
Crockery, cutlery and glasses for up to 5 people
Tea towels, oven glove, dishcloth & washing up liquid
Bath towels & handtowels, complimentary toiletries and loo roll
Outdoor picnic bench
2 free secure parking spaces per pod
Spectacular views of landscapes and stars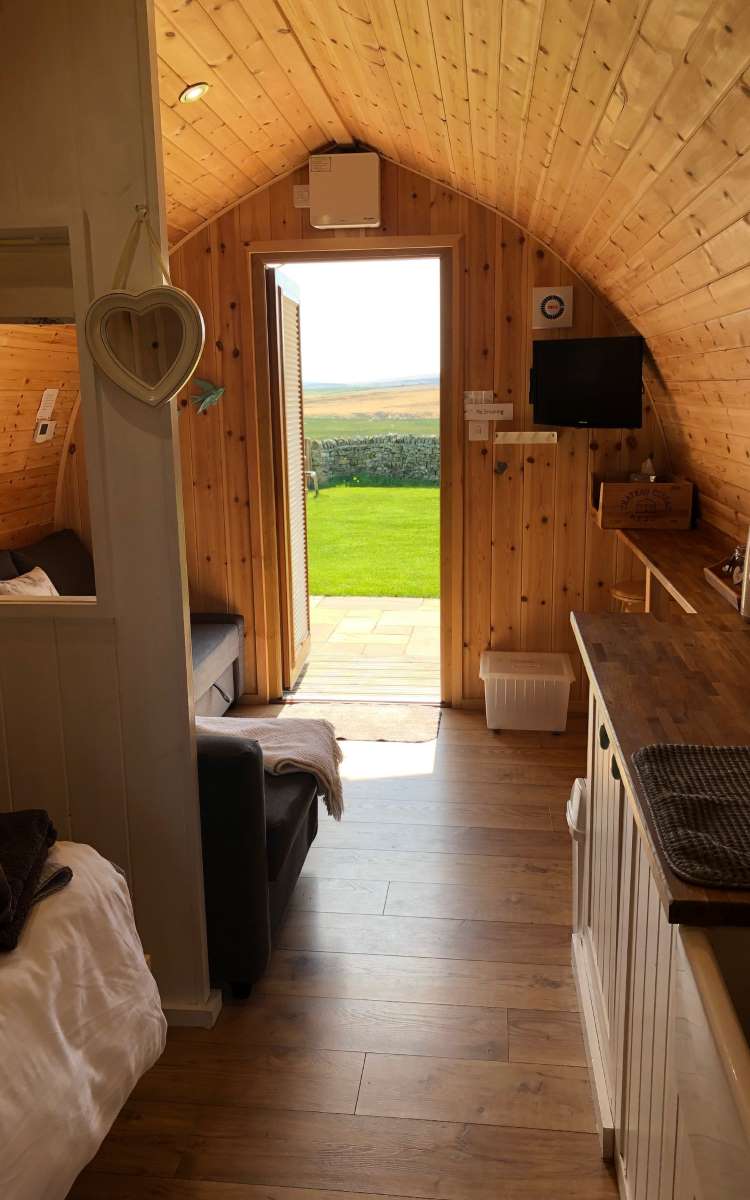 Groceries and Goodies to your door
Pre-order an online food shop from most supermarkets or use Food Heaven who specialise in local produce. Plan the delivery for your arrival and if you are going to be late just let us know.
The post code for delivery is NE19 1LA and in the special instructions just add "follow the GlamPods Northumberland signs" and the name of your pod.
WREN POD
Wren is a glamping pod which can sleep up to 4 people. It makes an excellent base for a group touring in the area for a few days or for any couple or group who want to be outside but don't want the hassle of tents. Like our other timber pods, it has an ensuite shower room with full toilet facilities for your comfort. While you are chilling in the summer sunshine, keep an eye open for the shy little namesake bird of your glamping pod.
The tiny little wren is the most common small bird species in Britain, but it is so shy that it is rarely seen. Your downtime when chilling in the sun is a great opportunity to catch a glimpse of these secretive little birds.
Inside Wren you will find:
A double bed already made up with a duvet, pillows, sheet and blanket
Kingsize Sofa bed with fitted sheet (please bring your own duvet/sleeping bag and pillows
Bunkbed with fitted sheet (please bring your own duvet/sleeping bag and pillows
Welcome pack of three cereals, coffee, tea, sugar and milk
Complimentary "Real" coffee tray
Wall mounted television
Built in USB charger
Fridge, microwave, toaster, slow cooker, kettle & cooking utensils
Hairdryer
Crockery, cutlery and glasses for up to 4 people
Tea towels, oven glove, dishcloth & washing up liquid
Bath & handtowels, complimentary toiletries and loo roll
Outdoor picnic bench
Spectacular views of landscapes and stars